Solution Focused Hypnotherapy in Stockport
Realise Your Full Potential
Let Solution Focused Hypnotherapy (SFH) help you.
If you are committed to change and want to realise your full potential, then SFH is particularly effective with the following issues (Please note this is not an exhaustive list so please do not hesitate to ask if your particular issue is not indicated)
Anxiety
Stress
Phobias
Self Esteem
Confidence
Insomnia
Smoking
Weight loss
"I am not what happened to me, I am what I choose to become" – Carl Jung
The Solution Focused approach focuses on how you want things to be in the future, rather than dwelling on or analysing the past.
By exploring preferred futures, you can gradually recognise what would need to change, and identify the necessary steps to move forward. Solution Focused Hypnotherapy is a collaborative process which helps you to make positive changes in your life. By connecting with your inner resources, SFH can help you become the person you want to be.
Several conditions are either caused by, or have anxiety as a major contributing factor. Solution Focused Hypnotherapy helps reduce this general level of anxiety which then has a positive impact on all other areas of your life. This is achieved through progressive relaxation and guided visualization. By focusing on establishing new patterns of responding to life events, you are empowered to move forwards.
FREE HYPNOTHERAPY CD or MP3 DOWNLOAD
During our initial consultation I will explain how Solution Focused Hypnotherapy works
and give you a free Hypnotherapy CD with no obligation to continue.
I will also answer any questions you may have about hypnotherapy.
With 26 years experience in Counselling and Psychotherapy, I am accredited with the British Association for Counselling  and Psychotherapy (BACP), and also provide Clinical Supervision for both trainee and experienced practitioners.
If you are committed to change I look forward to hearing  from you.  If you have any questions you can either call me on the number below or send an email to gollerenshaw@hotmail.com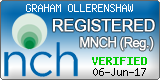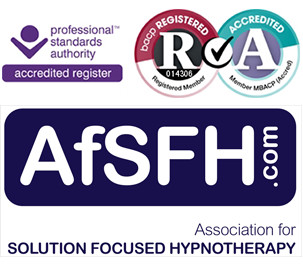 1996 BSc (Hons) degree in Psychology, Manchester Metropolitan University.
1997 MSc in Psychology and Counselling at Manchester Metropolitan University.
1997 Diploma in Counselling, Stockport College
2001 Certificate in Education,Stockport College
2005 Accredited Status with the British Association for Counselling and Psychotherapy (BACP) No. 522759
2006 Certificate in Supervision, The Manchester Institute for Psychotherapy
2016 Diploma in Solution Focused Hypnotherapy
2017 Hypnotherapy Practitioner Diploma